Stand-Up-Paddling rental in Eutin at the Eutiner See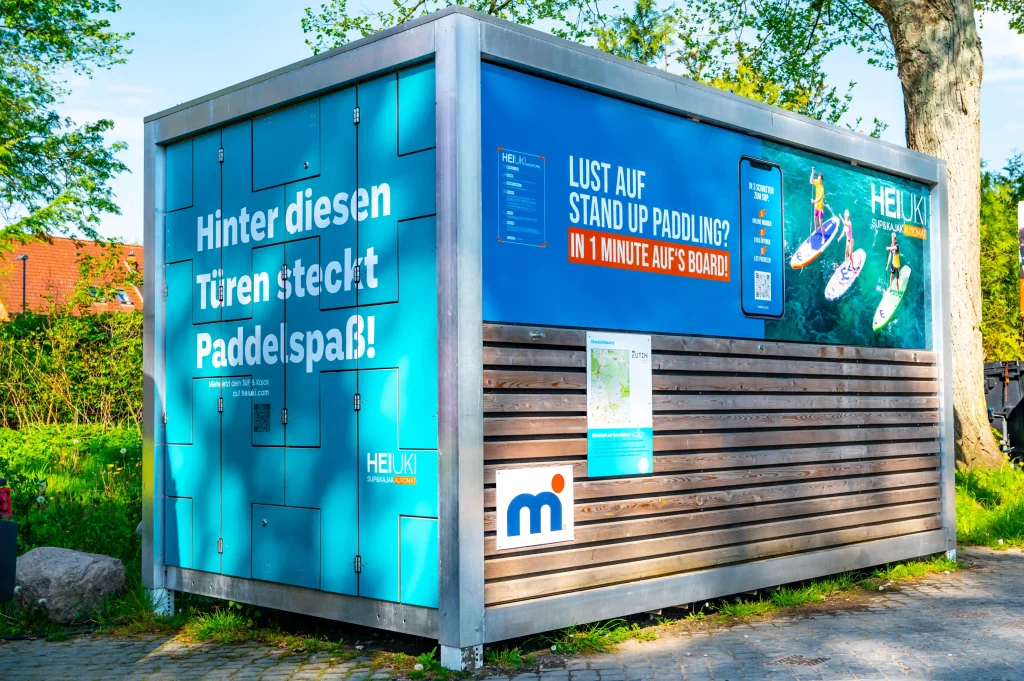 The sun shone brightly on the calm waters of the Eutiner See as I set off on my stand up paddle board. As I paddled, I felt the gentle breeze on my face and the cool water lapping against the sides of my board. I closed my eyes, took a deep breath, and felt the peace and tranquility of the lake enveloping me.
When I opened my eyes, I was greeted by the sight of lush green forests and gentle hills surrounding the lake. The scenery was truly breathtaking, and I couldn't help but feel grateful for the opportunity to experience the beauty of nature in such a serene setting.
As I continued paddling, I noticed the many animals that call the Eutiner See home. Ducks and geese gracefully swam alongside my SUP, while fish darted just beneath the water's surface. I even caught a glimpse of a majestic eagle perched high atop a tree, watching over the lake and its inhabitants.
As I approached the middle of the lake, I was awed by its sheer size. Stretching over 3 kilometers in length and 1.5 kilometers in width, the Eutiner See was truly an impressive body of water. I could feel the power of the lake beneath me, and it was both exhilarating and humbling.
As the sun began to set, I paddled back to the shore, grateful for the unforgettable experience that the Eutiner See had provided. Although my journey on the lake had come to an end, the memories I had made would last a lifetime.
The proposed paddle tour starts at the Eutiner See and follows along the picturesque lake promenade. Begin at the shore and paddle eastward along the lake. Enjoy the idyllic atmosphere and the magnificent views of the lake and the surrounding countryside. Follow the lake promenade for approximately 2 km as you glide along the shoreline. Admire the charming lakeside houses, the green parks, and the picturesque vistas of the lake. Along the way, you can make stops at certain points to explore the lake promenade on foot or take a short break to savor the tranquility and beauty of the surroundings. After approximately 2 km, you will reach the endpoint of the tour. To return to the starting point, paddle westward along the lake promenade, following the same route back. The total distance of the tour is approximately 4 km. Throughout the entire tour, it's important to prioritize safety. Please pay attention to other water sports enthusiasts and possible obstacles in the water.
Heinrich-Lüth-Weg, 23701 Eutin
SeeLoge Eutin
daily during daylight
public parking lots in the region