Stand-Up-Paddling rental in Ueckermünde on the Stettiner Haff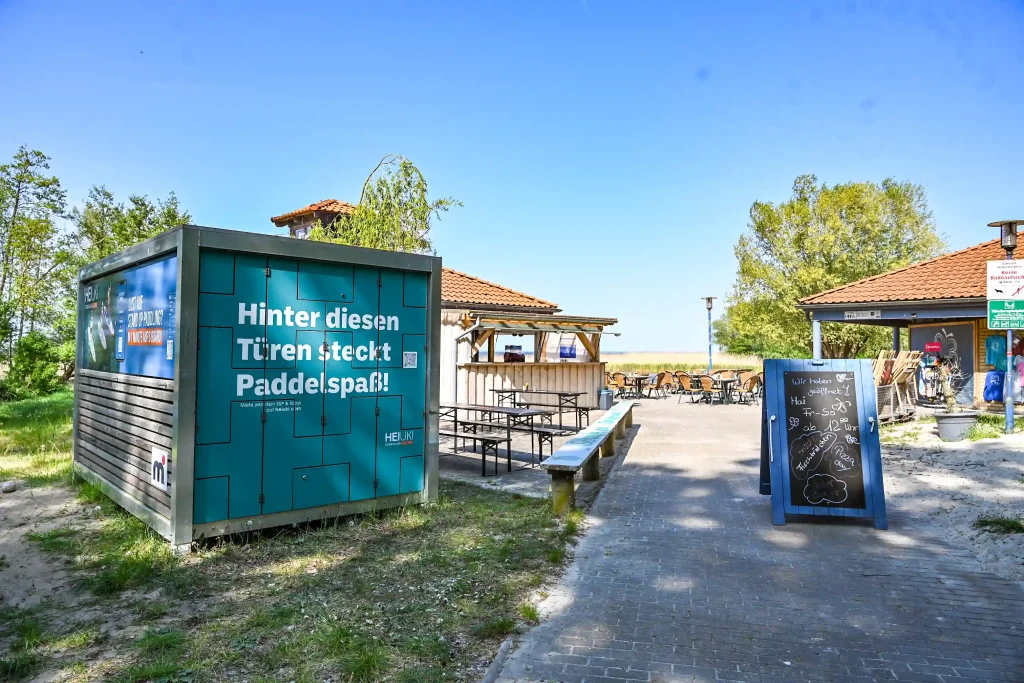 Stand-Up-Paddling - An adventure on the water of Ueckermünde.
It's a sunny day in Ueckermünde, and I decide to grab a stand up paddle board (SUP) and head out onto the water. I'm excited because I've never been on a SUP before, and I can't wait to have this experience. I find a paddleboard at a paddle rental system at Bellini Beach, a beautifully located sports beach in Bellin.
I strap the leash around my leg before lowering the board into the water. Once I'm standing on the board, I feel a gentle breeze and the cool water lapping at my feet.
I start paddling and quickly realize that it's harder than I thought. I have to find my balance and adjust my posture to avoid falling into the water. But soon, I get the hang of it, and I enjoy the calm and tranquility of the water. I only hear the rustle of the wind and the splashing of the water beneath me. I see the beautiful landscape of Ueckermünde pass by, and I feel free and carefree.
I decide to explore a bit and paddle to a small cove I've discovered. Once there, I step off the board and swim in the clear water. I feel alive and refreshed, enjoying the beauty of nature around me.
When I get back on my board, I notice a group of seagulls flying around me. I paddle slowly and watch them land and take off from the water. I feel happy and grateful for this experience and decide that I will go on the water more often.
I paddle back to the shore of Ueckermünde, where I pull my board out of the water and take off my wetsuit. I feel tired but happy, knowing that I've had an unforgettable adventure on the water of Ueckermünde today.
The proposed paddle tour starts at Bellini Beach in Uckermünde and offers you a wonderful opportunity to explore the waters. Begin at the beach and paddle eastward along the coast. Enjoy the view of the sandy beach and the clear water as you paddle approximately 1 km along the shoreline. Admire the coastal landscape and be captivated by the natural beauty of the surroundings. Along the way, you may discover small coves and perhaps even encounter some marine creatures. After approximately 1 km, you will reach a notable point where you can take a short break. From here, you'll have a magnificent view of the sea and can savor the relaxed atmosphere. Then, paddle back to Bellini Beach by retracing the same route you came from. The total distance of the tour is approximately 2 km. Throughout the entire tour, it is important to prioritize safety. Please pay attention to other water sports enthusiasts and possible obstacles in the water.
Strandweg 13, 17373 Ueckermünde
Bellini Beach Bar
daily during daylight
parking spaces at the forest entrance
Partner an diesem Standort