Stand-Up-Paddling und Kajak rental in Hamburg Mühlenkamp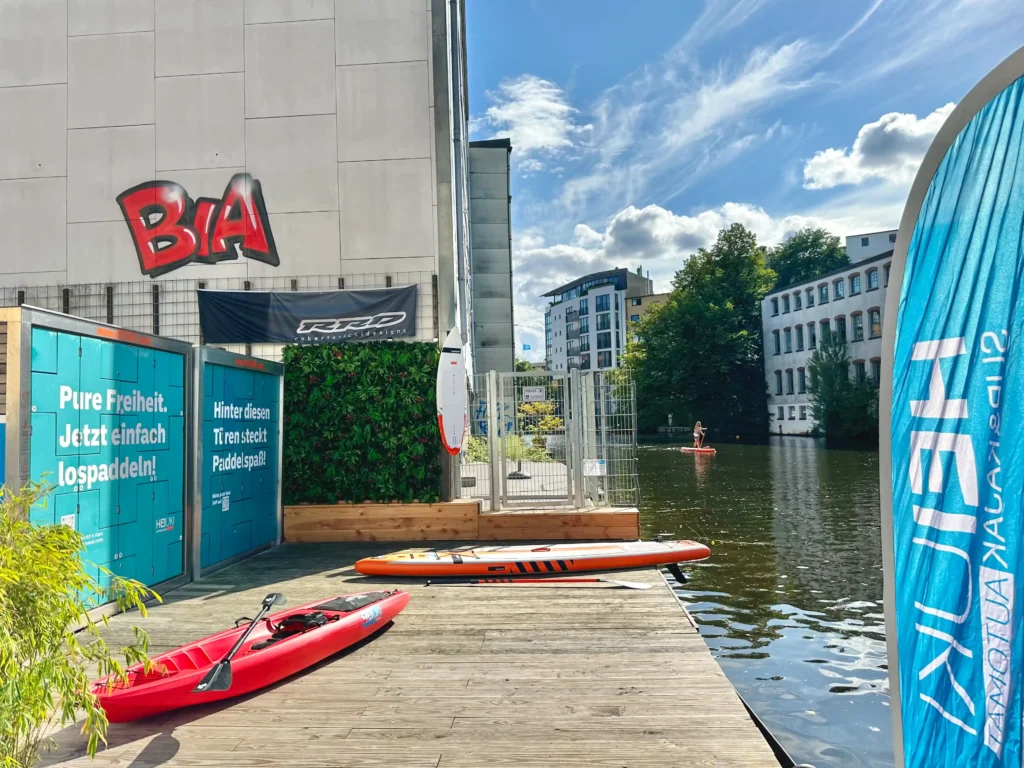 Hey there! You can rent really cool stand up paddle boards with us, right on the central Alster shore in beautiful Hamburg-Winterhude.
A day on the breathtaking Alster surrounded by lush green spaces in the heart of the city is simply amazing! Stand up paddling is a super fun activity best enjoyed with friends or family. Our top-equipped SUPs are suitable for both beginners and advanced paddlers. From our location, you can explore the stunning Außenalster and the numerous idyllic Alster canals such as the Mühlenkampkanal or the Goldbekkanal. Unique views and experiences are guaranteed!
Our station is also conveniently located at the starting point between Außenalster, the Alster canals, and the Stadtparksee. After your tour, you can relax and browse through the countless cafes, restaurants, and bars in Mühlenkamp. Or how about enjoying a delicious coffee right at Café Canale, which you can easily order from your board?
With our HEIUKI SUP rental system, you have convenient access to our stand up paddle boards every day during daylight hours. So, what are you waiting for? Experience Hamburg in a special way – an absolute must-do!
Start your tour at our location on Mühlenkampkanal. Check your equipment, make sure you have enough water and snacks, and get ready for your paddling adventure. From our location, paddle east and follow the course of Mühlenkampkanal.
Enjoy the calm waters and admire the beautiful surroundings. After approximately 2 km, you will reach Goldbekkanal. Turn right and follow the canal in a southern direction.
Goldbekkanal is wider than Mühlenkampkanal and provides a pleasant paddling experience. Paddle down Goldbekkanal for about 3 km, passing through Stadtpark (City Park). Enjoy the green surroundings and the view of the park landscape. After passing Stadtpark, you will reach Osterbekkanal. Turn left and continue paddling eastward on Osterbekkanal. Follow Osterbekkanal for approximately 2 km, enjoying the calm waters and the green surroundings.
Next, you will reach Mühlenteich (Mill Pond). This small lake is an ideal place to take a short break, enjoy nature, and refresh yourself. After passing Mühlenteich, paddle back on Mühlenkampkanal in a western direction. Follow the canal for about 1 km until you reach our starting point again.
Hans-Henny-Jahnnweg 27, Hamburg, Deutschland
Henny's Restaurant
daily 6 am until sunset
sufficiently available