Stand-Up-Paddling rental in Berlin auf der Insel Lindwerder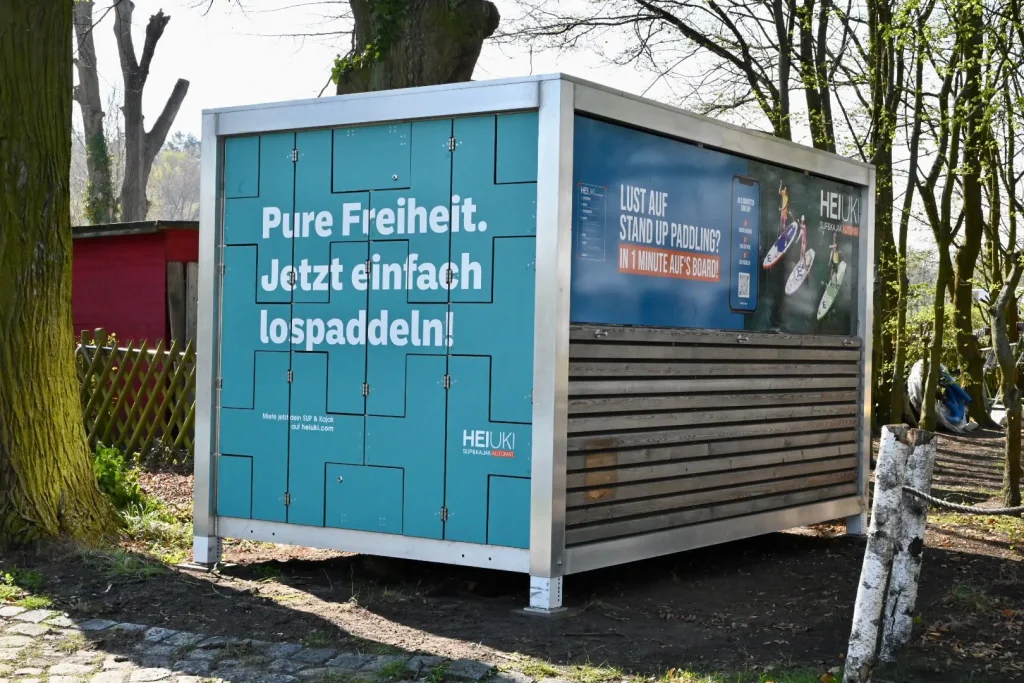 Starting at the charming island Lindwerder, the Heiuki SUP rental system invites you to a stand up paddle board tour on the Havel. Upstream you go towards Spandau and downstream to the Berlin Wannsee. Along the Grunewald you will experience picturesque landscapes and sights like the Grunewaldturm.
After your paddle tour we recommend you to end the day in the Restaurant Lindwerder for a great meal or a suitable drink.
Lindwerder isn't the only island, Schwanenwerder is worth a visit too. The island is surrounded by beautiful villas and large estates and is located directly on the Wannsee. One of the most famous buildings on the island is Villa Konschewski, designed by architect Paul Schultze-Naumburg in 1902 and considered an example of Art Nouveau in Germany.
On the opposite side of the Havel, you're mostly sheltered from the wind. Exposed properties with great buildings line the banks. Upstream, you'll pass Gatow on your way to Berlin Spandau with a great view over the wide lakeland and the Grunewald. Alternatively, you can go downstream in the direction of Wannsee past the island Imchen in Kladow. With a view to the Pfaueninsel you can see the island Kälberwerder, which you can paddle around aswell. On the way back you have a great view over the Havel and the island Schwanenwerder, which you can also pass on the inside. Please be careful of the traffic in this area. There is a lot going on at Wannsee.
Havelchaussee 1, 14193 Berlin, Fährkosten einmaldig 3 EUR je Person
Restaurant Lindwerder
Th - Su starting 10:30 am
public parking "Lieper Bucht" is located only 200 meters from the ferry terminal (in the direction of Spandau). Attention: The parking lot is often very full! Please plan in advance with enough time for the search. We advice to go by bike or bus line 218, stop: Lindwerder