Stand-Up Paddling rental in Berlin at Funkhaus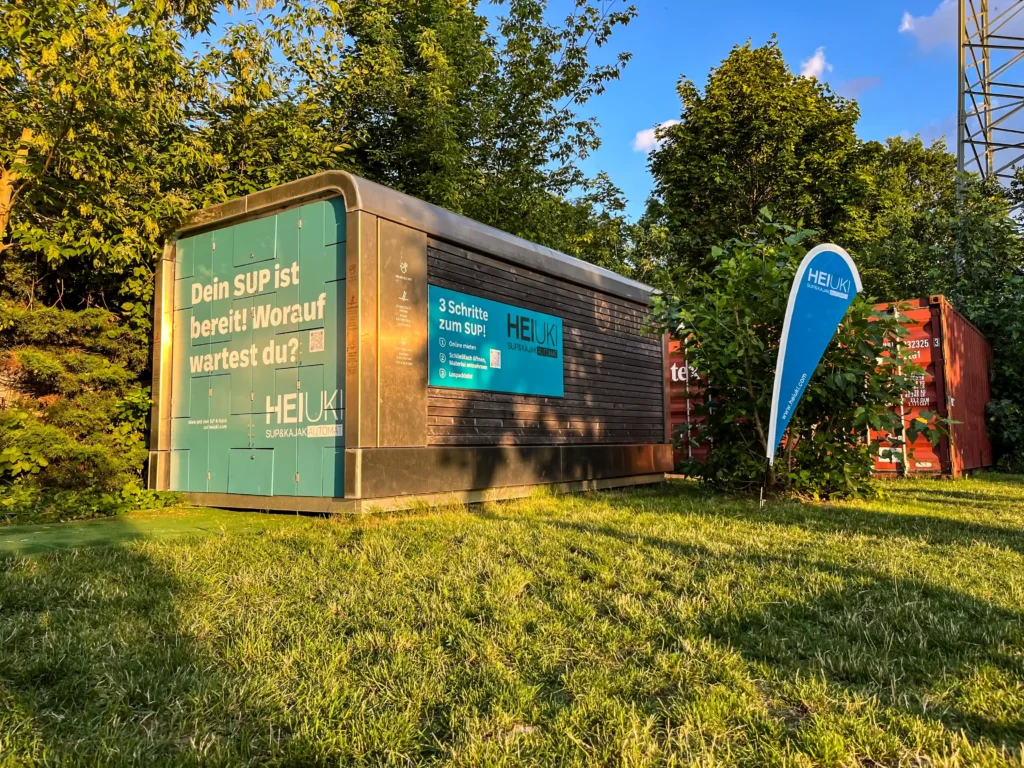 On the Spree with a stand-up paddle board from the Funkhaus Berlin.
Our HEIUKI SUP rental system at the Funkhaus, opposite the Treptower Park in cooperation with the Funkhaus Berlin is located in Lichtenberg. The location is very easy to reach by public transport or bike.
You can expect a great cultural location with café & restaurants, green spaces and waterfront places that invite you to linger. After a few minutes drive you have a breathtaking view of the Rummelsburger bay and the Berlin TV tower.
Especially in the morning and evening hours, you have the water almost to yourself.
It will lead you to city-famous houseboats in the Rummelsburger bay. You will look excitedly at the various construction projects on the water and will return with great impressions. On the island Katzenbruch you will find a great place for rest and relaxation.
On a big ride you start to the Molecule Men. On the Spree river towards the city center, you drive along the former Spreepark amusement park. New facilities are currently being built there that will be waiting for your visit in the future, and the city's famous Eierhäuschen is being renovated right at the water's edge. Continue between the islands Kratzbruch and Liebesinsel, be careful, you cross the water to the other side of the shore to the sailing ship restaurant Klipper. From there you continue through the Abbey Bridge, which connects the Island of Youth with Treptower Park. You paddle further down the Spree, staying in the shore area and watching out for other traffic. Remember, on the way back you will probably need a little more time against the current. Continue through the iron bridge to Molecule Man. You say WOW and probably have the best view of the TV tower and the Oberbaumbrücke from there.
Nalepastraße 18, 12459 Berlin
Milchbar
daily during daylight
few parking spaces on the premises
The rental system is located at the end of the property, past the milk bar.