Stand Up Paddle rental Eibelstadt am Main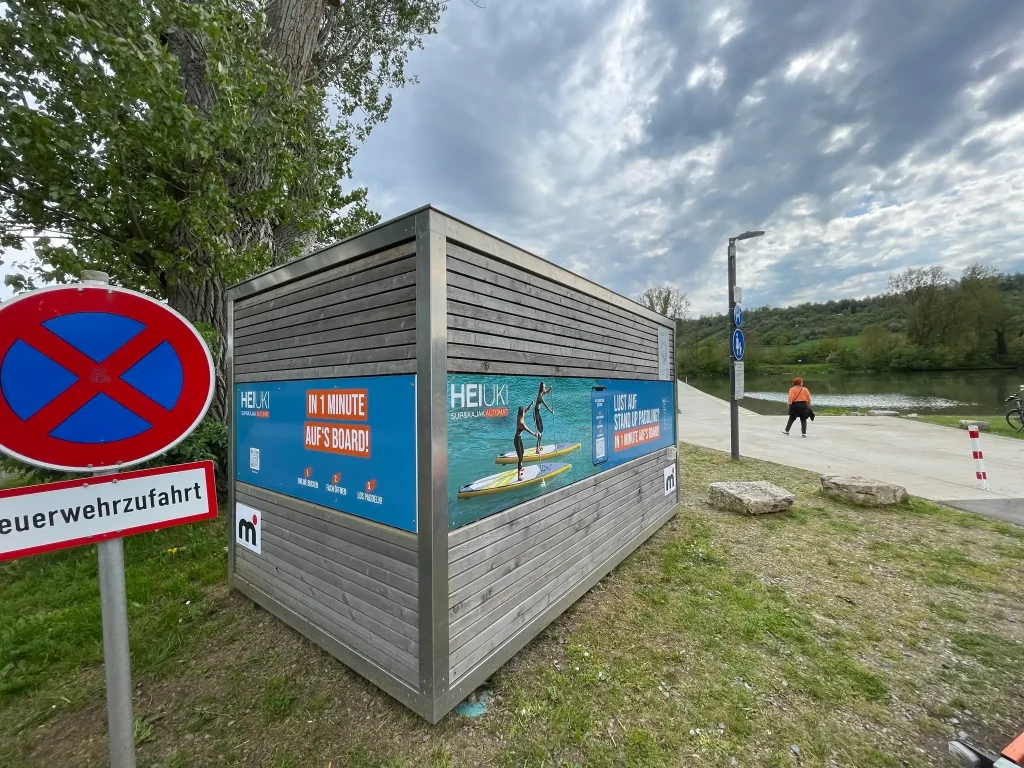 Our stand up paddle rental system is located in the charming town of Eibelstadt, directly on the banks of the Main River. Eibelstadt is known for its historic old town and idyllic location on the river. You will easily find the rental system as it is highly visible and easily accessible.
Our location on the banks of the Main River offers you easy access to the water and an unforgettable stand up paddle experience. Once you rent your board, you can get right on the waters of the Main River from the shore and begin your paddle.
The Main is a paradise for stand up paddlers. The calm river waters surrounded by green meadows and rolling hills create a relaxing and picturesque backdrop. Immerse yourself in the beauty of nature, leave everyday stress behind and enjoy the freedom of paddling on the Main.
Start your stand up paddle tour against the direction of the Main in the south-east direction. Take your first stop after a paddle of about 1.5km, approximately 500m before the Mainbrücke in one of the beautiful bays along the Main. Afterwards you go back to the starting point. You now have the current as support, which brings you back towards your starting point.
Start your stand up paddle tour on the bank of the river Main. On this route you start towards south-east direction against the current. First you paddle to the Mainbrücke and pass under it until you arrive at the Parkplatz am Main / Skaterplatz am Main after about 3km. On the opposite side of the parking lot you have a beautiful side arm of the Main, where you can take a break. So far you have paddled 3km. The way back is with the current. If you need a break during the way back you can stop at one of the beautiful bays and sidearms.
Mainlände, 97246 Eibelstadt, Deutschland
Heißer Franke, Biergarten und Foodtrucks
daily 6 am - 7 pm
sufficiently available at the parking lot at Landschaftssee