Stand-Up-Paddling & Kajak rental in Aschaffenberg an der Arche Noah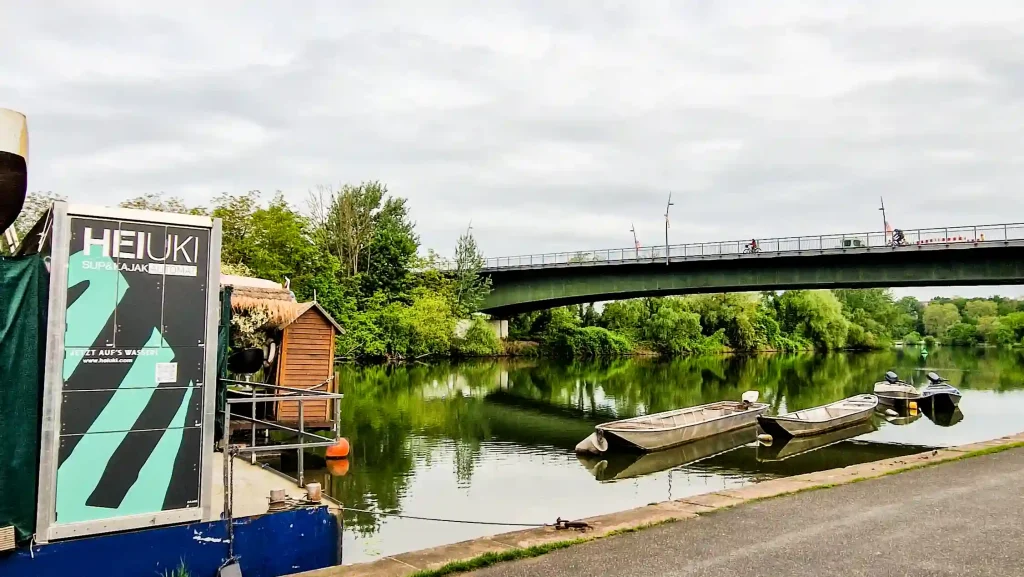 Aschaffenburg offers a beautiful setting on the Main River with a wide range of water sports activities. If you decide to go on a relaxing kayak tour on the old arm of the Main River or a stand up paddling tour with friends, you can easily rent the equipment at the HEIUKI SUP & KAJAK rental system. Whether sunrise or sunset, the rental system always offers you the easiest access to water sports.
Paddle on the cutoff lake of the Main, with little current, along great scenery. On a length of 1.7 km the old arm stretches between Schloss Johannisburg & the former Wehr des Floßhafens. In 1.5 hours you complete a round of about 3.4 km along the port facilities.
This route it is a bit more challenging, you go against the current to Schloss Johannisburg and shortly after the Mainbiergarten on the Main, with support of the current you go much faster now. Stay out of the fairway and watch out for commercial shipping. After almost 2 km don't miss the entrance to the Floßhafen, turn left and enter the shallow water again. Pass the marinas and you will soon reach the Willigisbrücke at Arche Noah.
Am Floßhafen 2, 63739 Aschaffenburg
Arche Noah
daily during daylight
Am Floßhafen 15 Parking