Stand Up Paddle rental Traunkirchen am Traunsee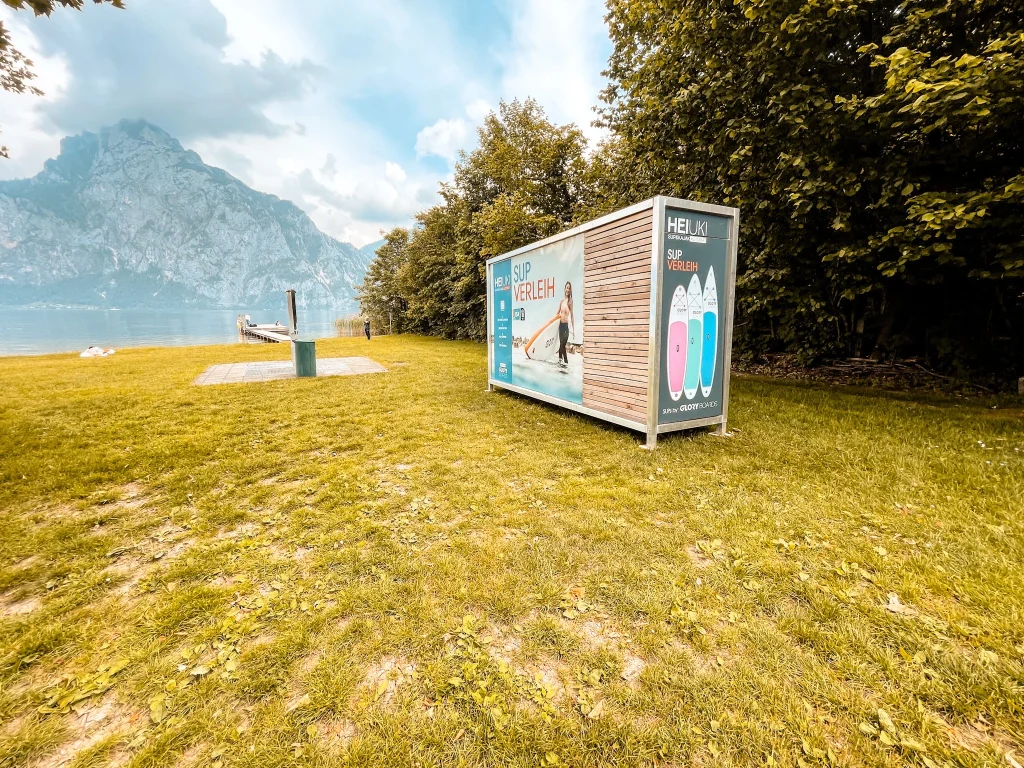 The Bräuwiese Traunkirchen at the Traunsee offers everything the stand up paddle heart desires. Only 10 meters from the water you can rent your stand up paddle board from the HEIUKI SUP rental system. You can glide over the water on a board and enjoy the beautiful view of the surrounding mountains. Besides the rental of boards, the Bräuwiese Traunkirchen also offers a lot of culinary delicacies. Stand Up Paddle rental in Traunkirchen is a great experience for anyone who wants to discover the Traunsee from a new perspective!
Start your approx. 1.5 hour tour at the beach of the Bräuwiese Traunkirchen. Paddle from the beach in a southerly direction, past the Seebrücke Traunkirchen. Paddle along the Seestraße Traunkirchen until you reach your first stop, the Seehotel Das Traunsee or the waterfront church, Kirche Maria Krönung. You have now covered about 1.5km and have reached the halfway point of the tour. Now it goes back to the north, where you started the tour, the Bräuwiese Traunkirchen.
This tour is about 6km and is recommended for more experienced stand up paddlers, because you cross the narrow side of the Traunsee back and forth. Start your Stand Up Paddle Tour at the beach of the Bräuwiese Traunkirchen like in tip 1. Just start straight ahead, towards the east – your destination is the famous mountain Traunstein, keep an eye on this striking target. Situated quite centrally from the Traunstein, you will then come to your first destination, the Miesweg unterm Stein am Traunstein. Here you have a unique stone beach for a short break. You now have about 2.5 kilometers of paddling behind you. From here you continue south, about 500 meters to the beach at Traunsteinstraße, where you can then moor your SUP and go for a swim in the water. Gather energy again, you now have about 2.5 kilometers across the lake ahead of you. Your SUP tour ends at the Bräuwiese Traunkirchen.
Aueck 1, 4801 Traunkirchen
Badebuffet Bräuwiese
6 am - 7 pm
Paid parking in front of the lido - Parkplatze Bräuwiese

Free entrance to the lido