Stand Up Paddle rental Schörfling am Attersee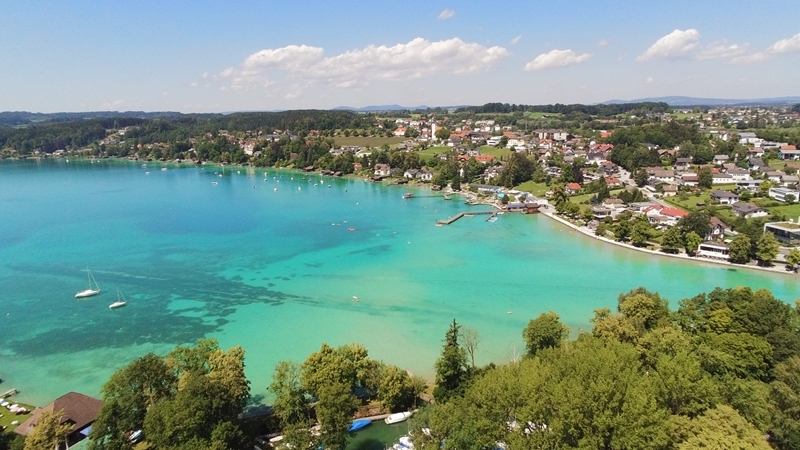 The Attersee in Schörfling, Upper Austria, is one of the largest inland lakes in Austria and offers a breathtaking backdrop for your SUP adventure. You can rent a SUP board directly at the lake, in front of the Shop Bike und Boot in Schörfling at our HEIUKI SUP rental system and explore many beautiful places like Kammer Castle and Litzlberg Island. The lake is also ideal for swimming and exploring. Don't forget to bring enough sun protection and a drink. Overall, the Attersee in Schörfling is a great place for stand up paddling.
Start your tour to the left, heading south and drive along Schörfling's beautiful lakeside promenade. The promenade is about 1.5km long and ends at the Seebad Pfahlbaudorf. On the way there you paddle past Kammer Castle, the Motor-Yachtclub-Salzkammergut and the Schörfling Seebad Schönauer. Before you return to the starting point, you can paddle a few meters into the Ager and take the exit on the right side before the Ager bridge at the public lido Schörfling.
Start your tour at the entrance of the public lido Schörfling. Now head south-west towards the island of Litzlberg. The route to there is about 3km and you paddle past several outdoor pools and restaurants where you can take a break or a bath. The Litzlberg is a unique spot on the water of the Attersee and a must for every SUP tour on the lake.
In total, the route is between 6 and 7 kilometers long.
Hauptstraße 8, 4861 Kammer
Das Klimt - Restaurant-Cafe
6 am - 7 pm
In front of the machine can be parked 2 hours free of charge with inserted parking meter - ATTENTION short term parking zone
Free parking at the Park & Ride station Kammer - approx. 2 min. on foot
Wegbeschreibung zur Einstiegstelle: