Stand Up Paddle rental Natterer See Innsbruck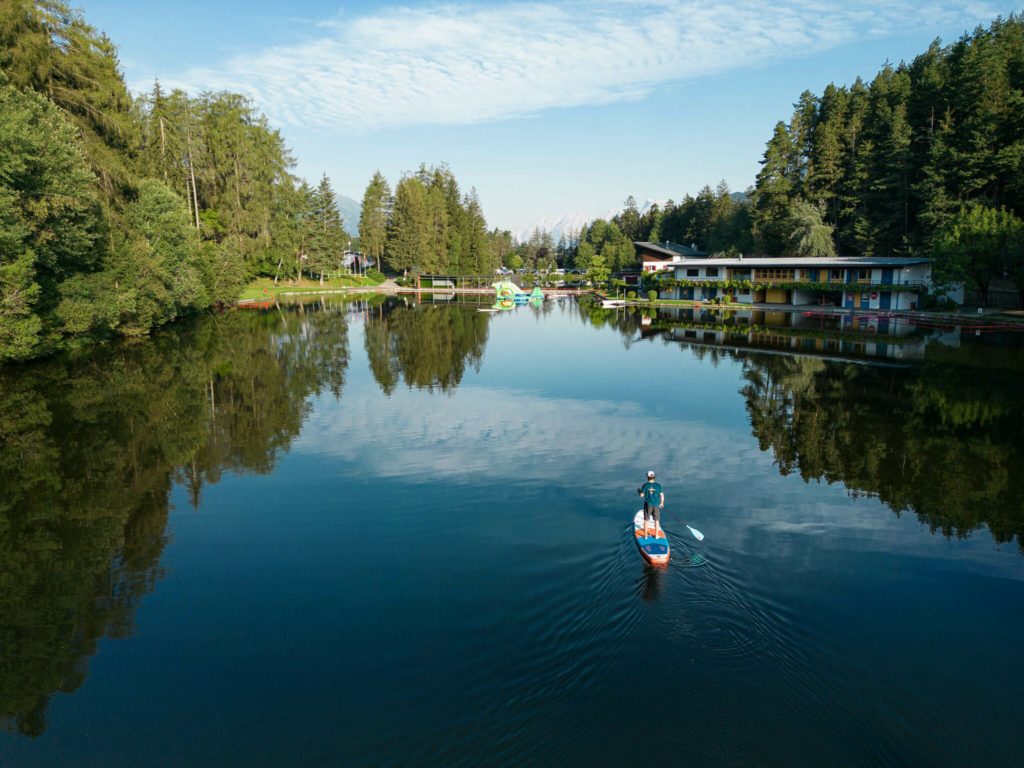 The Natterersee is a beautiful lake, located in the vacation paradise of Natters, near Innsbruck in Tyrol, Austria, and is perfect for stand up paddling. The lake is surrounded by mountains and offers a stunning backdrop for your SUP adventure. You can rent a SUP board right at the lake from our HEIUKI SUP & Kayak rental system and then paddle on the calm waters. The lake is perfect for a leisurely outing and lake circumnavigation. Don't forget to bring enough sunscreen and a drink, as the lake can get very warm in the summer. Have fun stand up paddling at the Natterersee!
The proposed paddle tour starts at the holiday paradise Natterersee and offers you a great opportunity to explore the lake. Start at the beach of the holiday paradise and paddle in a westward direction along the shoreline. Enjoy the calm atmosphere of the lake and let your gaze wander over the clear water. Follow the shoreline for about 1 km while admiring the nature and surrounding landscape. Along the way, you can discover small coves and beaches where you can take a short break if needed. After about 1 km, you will reach a distinctive point that offers a wonderful view of the surrounding mountains. Take this opportunity to take a short break and enjoy the scenery. Afterwards, paddle back to the holiday paradise Natterersee by following the same route you came from. The total distance of the tour is approximately 2 km. Throughout the entire tour, it is important to prioritize safety. Please pay attention to other water sports enthusiasts and possible obstacles in the water.
Natterer See 1, 6161 Natters
Ferienparadies Natterer See
6 am - 7 pm
Free parking in front of the lido entrance
Paid entrance to the lido!