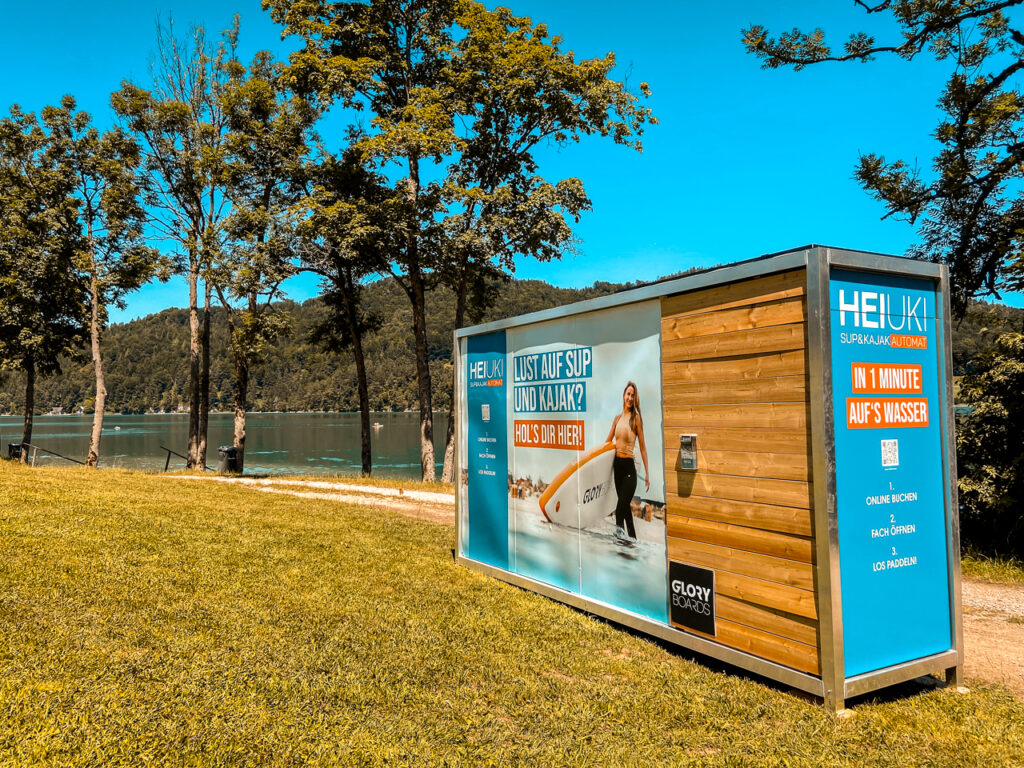 Welcome to Fuschl am See, a place known for its picturesque beauty and unmatched serenity. Here, on the shores of the enchanting Fuschl Lake, awaits a unique experience: the HEIUKI Stand-Up Paddle and Kayak Rental. Nestled amidst breathtaking natural scenery, Fuschl Lake provides the perfect setting for water sports activities and an active outdoor lifestyle. The turquoise waters of the lake, surrounded by majestic mountains and lush forests, evoke a sense of tranquility and harmony.
Whether you are an experienced paddler or looking to take your first steps on the water, our vending machine has everything you need for an unforgettable adventure. Grab a stand-up paddleboard or kayak and explore Fuschl Lake at your own pace. Feel the gentle breeze on your skin as you glide across the sparkling water and leave behind the stresses of everyday life.
Start at the HEIUKI vending machine in Fuschl am See and embark on an approximately 2 km tour. Glide gently over the glistening water and enjoy the spectacular views of the surrounding mountains and forests. As you paddle, you can fully immerse yourself in the tranquility and peace of nature. Pass by idyllic coves, admire the clear water beneath you, and let the beauty of Lake Fuschl captivate you. Keep an eye out for the abundant wildlife inhabiting this lake. With a bit of luck, you may spot birds, ducks, and perhaps even fish gracefully gliding through the water. After about 2 km, you'll reach a beautiful place called St. Gilgen. There, you can dock, explore the area, and take a short break before starting the return journey. Enjoy this short yet impressive paddling tour on Lake Fuschl and let yourself be enchanted by the natural beauty of the surroundings.
Fischerweg, 5330 Fuschl am See
Gasthaus Kuglhof
6 am - 7 p
parking available