Stand Up Paddling rental Potsdam, Marina am Tiefen See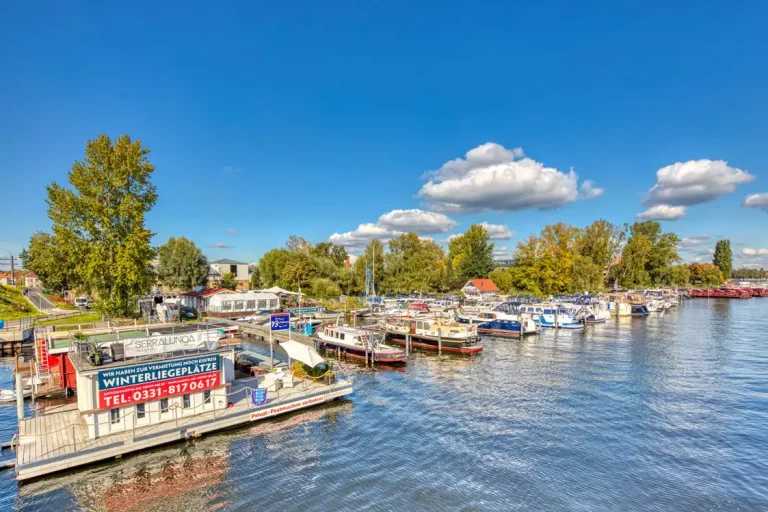 Stand Up Paddling at the Schiffbauergasse adventure quarter vis á vis Babelsberg Palace Park.
When the summer heat rises, the Marina at Tiefer See in Potsdam offers a great way to beat the heat and enjoy the great outdoors. Paddling at Tiefer See Potsdam is a great way for people of all ages to explore the water and enjoy the stunning views of the surrounding area.
Located in the picturesque city of Potsdam, Marina am Tiefer See is an idyllic spot for paddling enthusiasts. The calm waters of the lake are suitable for beginners and experienced paddlers alike. With a variety of rental boats, stand-up paddle boards and canoes, visitors can choose the boat that best suits their needs.
Visitors can explore the lake at their own pace while enjoying the stunning scenery around them. The lake is surrounded by lush greenery and offers breathtaking views of the city skyline and Babelsberg Park. Paddlers can take a break at one of the lake's many secluded beaches or enjoy a picnic on the water.
With its calm waters and breathtaking scenery, Potsdamer Tiefer See is an ideal destination for those who want to escape the hustle and bustle of city life and spend a peaceful day on the water.
The Havel is quite busy here, so we recommend you turn left, out of town. Follow the Tiefen See, depending on the wind, on the side of the Berlin suburb and admire the beautiful villas or cycle on the opposite side along Babelsberg Park. At the end of the lake you have a wonderful view of Potsdam's city centre, the Bridge of Spies and Babelsberg Castle.
Via Babelsberg Palace through Glienicke Bridge of Spies to Cecilienhof Palace. This is sight seeing par excellence. Depending on the wind direction, start to the left and stay in the wind-protected area. After 1.5 km you reach Glienicke Bridge and shortly before you have a fascinating view of Potsdam city centre, Babelsberg Palace and Glienicke Bridge, probably the most versatile view of Potsdam.
Keep left and pass the beautiful wooden blockhouse – Kongsnaes Sailors' Station. Along the Neuer Garten you will see Cecilienhof Palace in the next bay. If you look to the right, you have a great view of Peacock Island Palace and the Sacrow Church of the Saviour.
Schiffbauergasse 8, 14467 Potsdam
Marina Seeterrasse
from 9am to the end of sunlight
Parking Schiffbauergasse